We could hardly believe it when we heard that text-to-speech is now available on Apple Watch (given that Apple Watch imposed limitations on text-to-speech previously)! Who knew that a watch can now be enabled to read text out loud? Amazing!
Apple Watch does come with a range of accessibility features to meet the needs of people with different disabilities.
VoiceOver can be fully integrated into the Apple Watch OS, although it only offers more of a navigational support for its users. It is a gesture-based screen reader that helps its users to navigate the device without actually seeing the screen. It will speak the names of icons and apps, buttons and sliders for example.
So how is Text To Speech even possible?
With the latest version of the Apple watchOS, apps are now easier to access. Aside from the significant performance upgrades, the latest watchOS version 3 gave developers tools to create richer apps. With this, developers are able to access the Text to Speech feature on Apple Watch.
AssistiveWare's Proloquo4Text™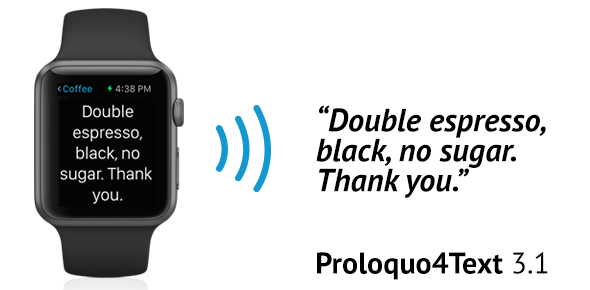 An app called Proloquo4Text™  by AssistiveWare is a text-based AAC that will allow the device to read the message out loud. Initially available for iPhone and iPad, this app is now available for Apple Watch consumers with the new watchOS. It comes with 100+ free natural-sounding voices, 18 languages and allows the user to switch languages on the fly. It also works with English, Spanish, French, German, Italian, Swedish, Norwegian, Danish or Dutch user interface.
To use Proloquo4Text™ on Apple Watch, the user will also need an iPhone 5 or later version. On the iPhone, Proloquo4Text includes a category in the Phrases folder. This folder is equipped with pre-programmed phrases, but the user can also create their own phrases and subfolders.  
Devices like the Apple Watch and accessibility apps can be empowering for many people with disabilities. Further developments in making accessibility apps and devices can be life changing.
Other Apple Watch Apps Promoting Accessibility
With any of the apple apps, you will install the app from App Store just as you would do it for iPhone apps.
Visual Schedule ($12.99)  
Visual Schedule is the very first picture-based scheduler for the Apple Watch allowing children and adults with autism and similar disabilities to handle transitions in their daily activities.
AssistiveWare's Proloquo2Go ($249.99)
Proloquo2Go is a symbol-based communication app available for iOS devices and provides basic communication capabilities on Apple Watch.
We'd love to hear from you! Are you working on a website, app or a passion project that helps promote accessibility and assistive technology? We are here to help share it with the world.
If you would like to enable Text-to-speech in your app or website, try ResponsiveVoice now! Effortlessly add 'on-the-fly' text-to-speech to your site or app, and save hours of needlessly creating and editing audio files, using quality computer voices.