The introduction of eLearning has helped educators facilitate a virtual classroom experience designed to accommodate distant learners. Moreover, this has opened the doors and opportunities for flexible and distributed learning environments for students and facilitators across the globe.  
The continuous developments in the eLearning environment have enabled educational institutions to enhance the richness of the contents and introduce students to a whole new learning experience. Part of this new enhancement is the integration of Text-To-Speech (TTS) software into the eLearning courses, which adds narration to the text. When done right, the integration of Text-To-Speech in the eLearning environment will not only enhance the students' educational experience, but will also enable the online learning institutions to be available globally and reach a wider audience.
There are several TTS Software available in the market that can perform the narration task flawlessly. Christopher Pappas of eLearningindustry.com listed down the top Text-To-Speech software for eLearning course integration.
Ivona – The software is still one of the top choices for a TTS solution, which ensures maximum performance on every device. The constant investment in research and development enabled Ivona to optimize the voices used to fit in every platform along with other services such as Technical Support and Cloud Service for recording.
NaturalReader – In terms of variety, NaturalReader is a better choice for a wide range of users. It comes with a free version that convert documents in PDF, Microsoft Word, and emails into spoken words.

There is also a paid version that offers more features, suitable for online learning and training.

Zabaware Text To Speech Reader –

The software's free version includes only limited to generic voices

while the paid version comes with a higher quality AT&T and CereProc natural voices. In addition, the texts can be also converted into audio files, which can be transferred to any audio-playing devices.

iSpeech – Audio format quality is one of the factors that determines whether a TTS software is a good fit for eLearning. iSpeech allows its users to convert speech into high quality and multiple audio formats. In addition to online and app services, it includes an integrated translator that converts the narrated text in 7 languages.
Acapela Group Virtual Speaker – Acapela is available in 30 languages, which makes it a perfect TTS software for multilingual eLearning students. The availability of voice samples in varying qualities and frequencies with easy access to sound files for authoring makes Acapela Group a top publisher of TTS software.
Apart from the list, some of the honorable mentions for the best TTS software include TextSpeechPro, AudioBookMaker, TextAloud 3, ReadTheWords, and VoiceReader respectively. The list is only a snapshot of the available TTS solutions on the market that can be used in enhancing eLearning courses.
When trying to determine which is the best solution for eLearning, it all goes down to the software that offers the best services (which are) instrumental for an effective enhancement of the eLearning experience. Furthermore, the integration of TTS in the eLearning environment provides educators with the ability to reach out to more learners including those with visual impairment.
If you are a developer or someone who'd like to tap into Text-to-speech for your own website or application, try ResponsiveVoice –  an instant TTS solution with voice consistency across Android and Apple devices and browsers. ResponsiveVoice supports 51 languages through 168 voices. It is now available and weighs just 14kb to install. This is the easiest way to add voice features to your website and only takes 3 minutes to fully voice enable your site.
Sign up and follow our one-time simple instructions to setup the ResponsiveVoice API in your site or application.You can also start coding your own new voice features in minutes.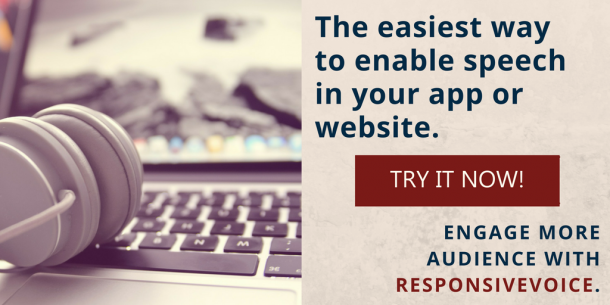 Read more: "Top 10 Text To Speech (TTS) Software For Elearning – Elearning Industry" by Pappa, Christopher.  eLearning Industry.