Since 1950's, Text-to-speech (TTS) technology has gone through a dramatic change. Today, TTS is affordable and a great asset in learning and education. Learners and students with vision impairments, like dyslexia, and struggling readers benefit from TTS.
The benefits of TTS and its practical applications are made known by famous personalities such as Stephen Hawking, Jack Chen — Google's legally blind legal counsel, and India's Foreign Service Officer Beno Zephine. TTS is also integrated into many government owned websites. The web accessibility initiative prompts web developers to render articles and important documents in audio format.
Diane DeMott Painter, a former special education teacher, claims that students with learning disabilities found success using computer technology, Text-to-speech, and word processor. Most of her students were motivated to write using a computer because it is easier to compose text, and editing and making revisions are more efficient. Misspellings are also corrected instantaneously by a spell-checker program. However, for students with visual and auditory processing deficits, this can still be a challenge.
I felt that my students who have problems with auditory processing and auditory memory, as well as visual processing difficulties may be the very ones who were not making the expected gains in writing. They were having problems even when given the opportunity to use word processing and instructed through a structured phonics based reading/writing program. So, during this past school year, I decided to try to find ways that my students could learn to "hear," "feel," as well as "see" how letter sound combinations form words. Since I was working with a structured reading program (The Wilson Reading System) to teach my students the phonetic structure of words, I wanted to see what would happen if I used text-to-speech with this reading program to reinforce basic reading and writing skills.  – Diane DeMott Painter
TTS helped the students to see and hear the sounds of the words they were writing. This helped nurture sound sequencing – internalizing how words are formed and able to recall words from memory. Diane had three assumptions in exploring the use of TTS as an aid in learning: "1) text-to-speech will provide auditory feedback which will either confirm or invalidate the correct sounds the children think occur in words; 2) seeing and hearing the sounds that text-to-speech programs produce will provide the students with multi-sensory practice in learning how to write words; and 3) as the students learn to distinguish sounds and think about sound sequence through text-to-speech programs, they will begin to internalize how words are formed each time and will be better able to recall words from memory instead of "sounding out" words and relying on hearing the words spoken back to them as they write."
One popular electronic device manufacturer that uses the Text-to-speech technology is LeapFrog. This company developed learning devices such as the Tag reading systems and LeapPad tablets. LeapFrog's technology has been used in several studies and in Early Childhood classrooms.
Devices developed by LeapFrog offer games that are fun and educational. Most are used to help improve students' phonological awareness, reading levels, fluency, and comprehension.
Through taking advantage of TTS, we give students, especially those with special needs independence in writing and learning. These are vital to their success.
Reach more audience! Add voice features to websites and apps across all smartphone, tablet and desktop devices. Try ResponsiveVoice — your effortless text-to-speech solution.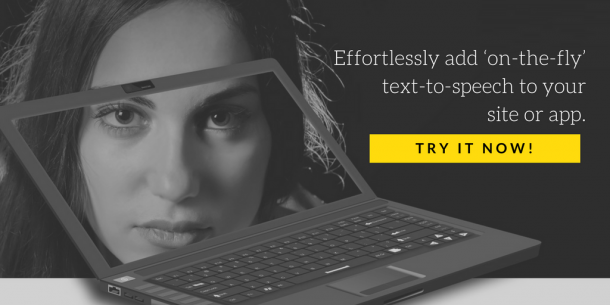 Read more: "What Happens When Students Use Text-to-Speech and Word Predict Programs to Compose Text?" by Diane DeMott Painter