It is not surprising to see a few children in a classroom that are showing signs of difficulties in reading, interpreting words, symbols, and letters because according to the recent report published in the New York Times, about 2 million children in public schools alone struggle with reading due to dyslexia. However, this problem can be addressed beyond the medical means because of the availability of assistive technologies such as Text-to-Speech or TTS. Dominik Lukes of Dyslexia Action shared his expertise on the subject of TTS integration into classroom learning for Dyslexic students. Books and other printed materials are the norms in the classroom, but the sight of them puts the dyslexic students so much trouble. The use of digital text, on the other hand, with TTS functionality makes a lot of difference for the challenged students.
Part of the advantage of TTS for students with reading difficulties is that the technology improves word recognition, as the reader is able to view the text while hearing the corresponding audio. In addition, TTS also increases the ability to pay attention and improves focus on comprehension instead of relying on sounding out words. There are several other advantages that TTS offers the dyslexic readers, but before getting started with enabling the functionality on handheld devices, Dominik Luke shared important pointers to ensure that TTS delivers the greater advantage for the problematic readers.
Mobile devices running on Android or iOS have built-in TTS functionality, "Both Android and iOS have high-quality built in voices that any program can use to make text speak. Both systems also have special accessibility modes that make every text on the device be spoken out loud. They can be activated in the Settings under 'Accessibility'. This mode is called VoiceOver on iOS and TalkBack on Android. Under this mode, any text you touch on the screen is read out. This means that you have to double tap when you want to activate buttons or screen areas. VoiceOver and Talkback are specially designed for Blind and Partially Sighted users" – Luke.        
Apart from the mobile devices, digital content readers also feature TTS functionality. The most common need for a mobile device is to listen to a long document or an e-book. Many e-book and PDF readers include text-to-speech functionality. Luke listed the most common and popular apps that can be used as integral reading tools for the dyslexic readers.
For Android-enabled devices;    
Google Play Books (preinstalled on all Android devices) has a 'Read out loud' function built in, which reads the whole book. However, it's not very easy to pause and jump around during playback. Google Play Books is also available on iOS.
One of the best text-to-speech supplements in an e-reader is the TTS+ Plugin for FB Reader. It puts all the controls at your fingertips. You can pause, rewind and fast-forward the speech, using simple buttons. Unfortunately, FB Reader does not work with books locked by Digital Rights Management.
For iOS-enabled devices;        
All iPhones and iPads come preinstalled with iBooks. There is no 'Read out loud' option but iOS will 'Speak' any text you've selected.  Otherwise, you have to use VoiceOver to read books. NaturalReader Text-to-Speech
NaturalReader (which I recommended as a great starter app on the desktop) is also available on iOS. The free version will read documents in a variety of formats in the default voice.
Voice Dream Reader
Voice Dream Reader will read out text from a variety of text formats (from Word documents or PDFs to e-books). It styles itself as 'the most accessible' reader and it has the most comprehensive and intuitive text-to-speech interface. It will import documents from a variety of sources including Dropbox and online book repositories.
Enable TEXT-TO-SPEECH on your site or app to reach more audience. Try ResponsiveVoice TTS now!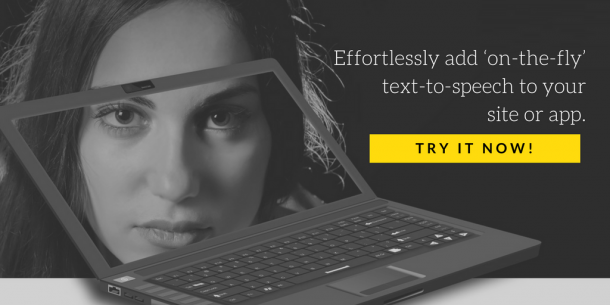 Read more:
"Tech Thursday: Make Your Computer Speak Part 5: Text-To-Speech On Mobile Devices | Dyslexia Action". Dyslexiaaction.org.uk. Luke, Dominik.
"The Reality Of Dyslexia: Millions Struggle". Nytimes.com.