What is the ResponsiveVoice Agent?
The ResponsiveVoice Agent is a package that includes a lot of out-of-the-box TTS functionality.
Is it for me?
If you're not a programmer (or don't want to bother with programming), or the WordPress plugin doesn't offer you the functionality you need, the ResponsiveVoice Agent is for you.
How do I install it?
The first step is to get access to the Agent. If you want to try it out, you can start a trial here. If you already have your credentials, you can login here.
When you have logged in, you'll be in the Agent dashboard.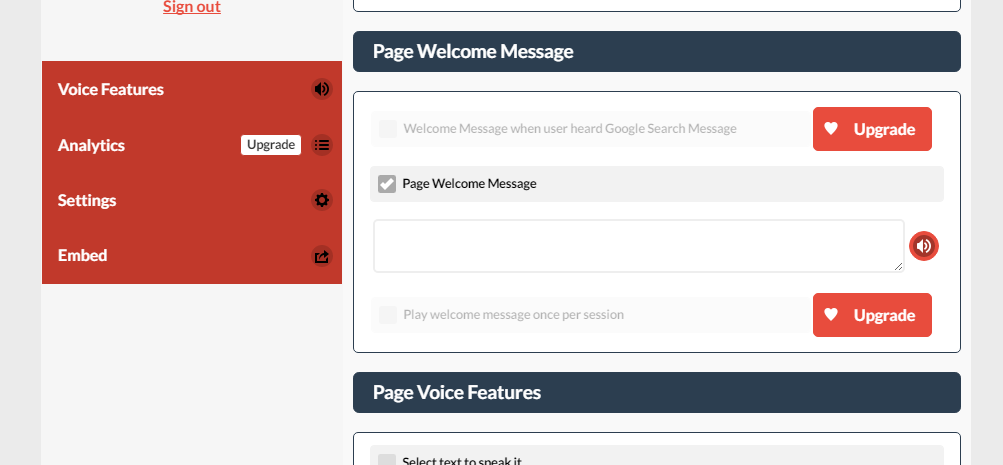 There are now four steps to set up the ResponsiveVoice Agent to suit you:
Select the features you'd like to use, and fill them out.
In Settings menu enter your email address, your website, and the voice you'd like to use.
In Embed menu tap the button to generate a unique code for your website.

Now all that's left is to follow the instructions above – open your favourite text editor and add the above code to the page you want the Voice Agent to work in, right before the
</body>
tag at the end. The Agent will automatically load in the page you modified, with the functionality you selected.
How do I use the ResponsiveVoice Agent?
The installation is all there is to it – the Agent was built to automate all functionality, so that anybody could add TTS functionality to their website.
What license do I need?
The ResponsiveVoice Agent has two licenses available: the Agent Free, which can only be used in non-commercial websites and has a limited featureset, and the Agent Pro, which is a subscription service, but offers a number of features not present in the free version, including (but not limited to):
Use in commercial websites
Accessibility: spoken tab and paragraph page navigation.
Exit page/inactivity messages
Secured connection through SSL/TLS
You can find more details on the Pricing page.
Common issues
The ResponsiveVoice Agent is not picking up everything in the page!
Since the Agent is completely automated, it is less flexible than an ad-hoc solution developed with the API. It relies on the HTML structure of the page to see what is a link, what is a paragraph, etc.
On websites with lots of dynamic content (Javascript heavy web apps, for example, or WordPress websites with lots of plugins and multiple languages), the structure is modified too much for the Agent to correctly identify. In that case, the best solution is to switch to the API.