An open source collaboration aims to add Text-to-speech functionality to Wikipedia. Essentially, the whole Wikipedia website is designed to make collaboration easy (aka Wiki). It is now the biggest open source knowledge base collaboratively written by the people who use it. The collaboration's goal is to allow the site to read out the text to its many different users online.
The TTS solution is being developed by KTH Royal Institute of Technology university in Stockholm, Sweden. The software will then be made available to the public and readily usable by any site that uses the MediaWiki software.
Joakim Gustafson, head of KTH's speech group, tells TechCrunch:
We will build an open framework where any open source speech synthesizer can be plugged in. Since it is open source modules, it will also be possible to add or substitute certain modules in the Text-to-Speech system (TTS)… The TTS will be open source so anybody could of course use that functionality for any use (not only reading wiki (or other) web pages.
A quarter of all Wikipedia users, an estimated 125 million users per month, "need or prefer text in spoken form, whether for literacy or visual impairment reasons" concluded a pilot study called WikiSpeech. The study was conducted from August until December 2015.
Natasha Lomas reported in TechCrunch that the "crowdsourcing element will entail wiki users either being able to report badly sounding sentences, or to correct the sentences themselves — although that will require some linguistic knowledge as it will involve using a phonetic transcription to correct the dictionary…Crowdsourcing help will be solicited from a mix of Wikipedia users and schools with programs for kids with reading difficulties, according to Gustafson."
One of the most important goals of the projects is to make the program work with other character sets (such as Arabic) and in cases where characters need to be read from right to left.
Another objective is to have English, Swedish, and Arabic speech rolled out in Wikipedia sometime in 2017. After which, the crowdsourcing will continue to extend Text-to-speech to the other 280 languages where Wikipedia is available.
The most challenging aspect of the project is to develop the resources for synthesizing speech for the other languages. There are a lot of open source languages resources that can be plugged in for English. However, for languages like Arabic, these resources need to be developed.  
Would you like to have Instant Text-to-speech for your site? ResponsiveVoice developed a Text-to-speech functionality that supports 51 languages through 168 voices. It is now available and weighs just 14kb to install. This is the easiest way to add voice features to your website and only takes 3 minutes to fully voice enable your site.
Sign up and follow our one-time simple instructions to setup the ResponsiveVoice API in your site or application.You can also start coding your own new voice features in minutes.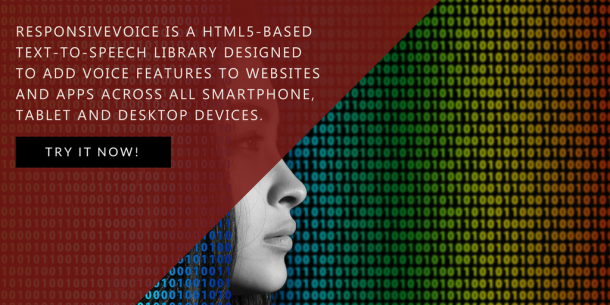 Read more at "Crowdsourced project aims to add text-to-speech to Wikipedia" by Natasha Lomas